Regularly scheduled professional car washing is essential to maintain the appearance of your vehicle, but your car also requires periodic detailing. Detailing is an extensive cleaning and reconditioning of your vehicle that protects against everyday use and the elements, including harmful UV rays.
We offer a menu of affordable detailing services, from general maintenance to restorative. Detail your car today and protect tomorrow!
Recommended Detailing Schedule for Regularly & Professionally Washed Vehicles
Because we understand the importance of protecting the investment that is your vehicle, each and every one of our car wash locations has a Meguiar's Detail Center on-site. Interior or exterior, all of our detail services feature Meguiar's professional car care products and include a FREE #1 car wash!
Appointments are encouraged, but not necessary - so stop by and talk to one of our knowledgeable detail technicians today!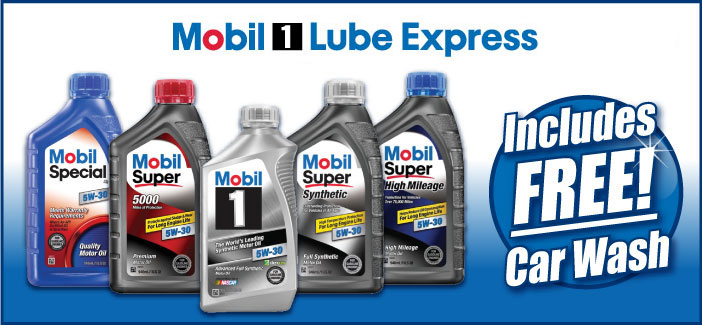 Having your oil changed regularly is one of the best things to do to keep your car operating properly. Nothing works harder to keep your car, truck, van or SUV running smoothly than Mobil™-branded oils. From premium conventional to advanced full synthetic oil to high-mileage oil – there is a Mobil-branded motor oil to help you go the distance time and time again… and, every one of our oil changes includes a FREE car wash! We also offer automotive maintenance services including radiator flushes, transmission fluid exchanges and fuel injection cleanings.
For more information about Mobil 1™:
CLICK HERE
For customer testimonial about Mobil1™:
CLICK HERE
For more information about Mobil™ Super Family:
CLICK HERE
For prices & locations:
CLICK HERE